Helpful hints from Information Outpost staff members who have been there!
Travel Notes
Peru: Machu Picchu
The trip to Machu Picchu started early in the morning. Our travel agent picked us up at the hotel and took us to the train station. There were huge lines at the station, but we were able to go right in because we already had tickets. There are also many street vendors selling food and various other items on the street outside. It was a perfect place to buy your breakfast and and some snacks for the train ride. If you plan on buying tickets that morning, allow plenty of time (at least an hour) to make it through the lines. The train ride is four hours on a narrow gauge railroad and can be very bumpy at times. The facilities are very basic on the train (bring toilet paper), but depending on your ticket class, you may get served some food. The train runs through the scenic Sacred Valley and the jungle that hid Machu Picchu from the rest of the world for so long.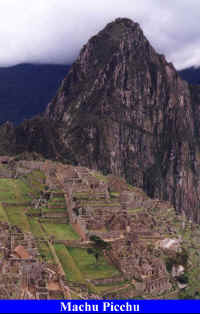 Our tour guide met us on the train, and he made sure we got off at the proper stop and escorted us to the waiting buses. After about a 20 minute trip straight up the mountainside, the buses dropped us off at the entrance to Machu Picchu.
Our walking tour lasted about three hours and covered almost every possible aspect of the development and life in Machu Picchu. The only thing we did not get to do as part of the tour was the trek up Huayna Picchu, the peak next to Machu Picchu (shown in the upper right picture). We only had about an hour to roam around by ourselves after the tour and the steep ascent up the peak typically takes an hour to get up and another hour to get back down.
The only people that were able to make the climb were the ones that either arrived the night before, or arrived earlier in the morning by way of a helicopter or the Inca Trail. After our tour, we grabbed a quick bite to eat at the cafe next to the entrance. There was a restaurant as well, but it was a little expensive. We then made our way back to the bus to start our long journey back to Cusco.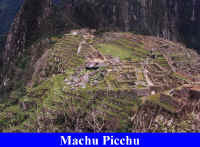 If we go back to Machu Picchu, the only things we would do different are:
1) Hike in on the Inca Trail. There are plenty of outfitters and tour groups available in Cusco to either guide you on the trail or make sure you have all the proper gear for the journey. Our biggest constraint was time and the hike usually takes at least three days.
2) Plan to stay overnight in order to be able to climb Huayna Picchu.