Helpful hints from Information Outpost staff members who have been there!
Travel Notes
Ireland
Ireland is a wonderful place to visit. We spent ten days in the countryside exploring the beautiful Irish landscape. Our trip started in the middle of October after the end of the tourist season which normally runs from May to September. So we had no trouble making bed and breakfast reservations and rarely had to wait in line to see any of the attractions. Although it rained occasionally every day, only the last two days of our trip were really cold and wet. Although we did not tour Dublin, the rest of Ireland had plenty to offer between the castles and museums, the Cliffs of Moher, the pubs and loads of traditional Irish music.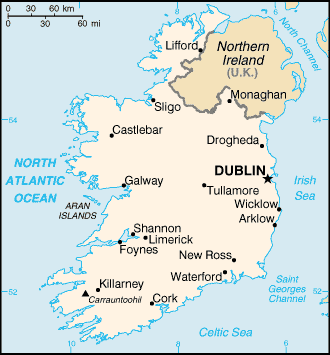 Areas visited: Dungarvan & Kilkenny, Glin & Galway, Donegal & Westport, and Ennis & Bunratty
Useful links if you plan on traveling to Ireland:
Here is the U.S. State Department´s report on Ireland: http://www.state.gov/r/pa/ei/bgn/3180.htm
And their general advice for traveling is at: http://travel.state.gov/travel/abroad.html

Here is a couple of sites with information on traveling to Ireland:
Ireland´s Official Online Tourist Office
Lonely Planet World Guide - Ireland
The Official Website of the Northern Ireland Tourist Board
Dublin Airport
We arrived in Dublin at seven in the morning and immediately made our way to the car rental counter. On the way, we exchanged money for European Euros. Although Ireland shifted to the Euro, if you decide to venture into Northern Ireland you will also need British Pounds. We opted to rent a van so that we were able to travel on our own schedule throughout our vacation. We were able to use our U.S. driver´s licenses rather than having to get international licenses even though the Irish, like the British, drive on the left side of the road. It takes a great deal of concentration and the help of a good navigator to manage the roads if you are not accustom to driving on the left. If you have any reservations about driving, we recommend opting for public transportation or using one of the many organized bus tours to get around. After some practice laps in the parking lot, we ventured onto the main roads to head for our first stop in Dungarvan.
Throughout these travel notes, you can click on the pictures to see larger versions of what we saw!
Dungarvan & Kilkenny, Glin & Galway, Donegal & Westport, or Ennis & Bunratty