Helpful hints from Information Outpost staff members who have been there!
Travel Notes
Ireland: Dungarvan & Kilkenny
Once we made it out of the airport, we ran into a traffic jam on the road that goes around Dublin. This gave us more time to get used to the driving. Ireland uses roundabouts for many of the major intersections. We quickly learned that you must yield to cars in the circle and before entering the roundabout it helps to pay close attention to the sign that shows the order of the roads exiting the traffic circle. After we got clear of Dublin, the only major driving problem we had was keeping the rather large van we rented on the small country roads. We drove south through Waterford and reached our first destination, the town of Dungarvan, by lunch time.
We drove into town and stopped by one of the local pubs for lunch. We wandered around the town for a while after eating, and then we went to our bed and breakfast to check in. Even though we had flown all night and we were exhausted from the drive, we forced ourselves to exercise instead of napping at the B & B. A quick run rewarded us with the exhilarating sites, sounds and smells of rural Ireland and kept us from sleeping the rest of the day away. Afterwards, we went back to town for dinner and a visit to the pubs.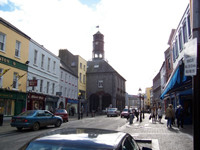 The next morning we started our normal routine of breakfast at around nine in the morning. Then we packed up and jumped into the van to go to our next destination. We reached Kilkenny around lunchtime and this time had more energy to go sightseeing. We wandered around town, stopped by Grace´s Castle which is now an operating courthouse and then took a tour of Kilkenny Castle.
Kilkenny Castle is one of the many attractions that are run by Ireland´s Office of Public Works as a Heritage Site. We had to sign up for a tour and ended up having to wait for an hour before it started. We should have signed up when we first got into town rather than waiting until after lunch. The tour was fascinating and the condition of the castle was remarkable. But we were not able to take any pictures of the inside of the castle-we had to leave them with the coat check person before the tour. It was rumored that this drastic policy started after several historic sites had been burglarized after being scouted out by visitors with cameras!
After our tour, we checked into a bed and breakfast called Dunromin about a ten minute walk from downtown Kilkenny. It was the best B & B we stayed in the entire trip! Tom and Val were very friendly and gave us recommendations on what to see and do in town during a tea Val hosted after we arrived. They also belated informed us that there is a card you can buy for twenty Euros to get into all the Heritage Sites, like Kilkenny Castle. After our tea, we followed our usual schedule of dinner and sampling the Pubs in town in search of traditional Irish music. We were not able to locate any music that night, but the next morning Tom and Val felt so awful that we missed out on the entertainment that Tom gave us a personal performance over breakfast! He even managed to get us to sing along to a few verses!
Return to Ireland Tour Start Page or go to Glin & Galway, Donegal & Westport, or Ennis & Bunratty