Helpful hints from Information Outpost staff members who have been there!
Travel Notes
Peru: Cusco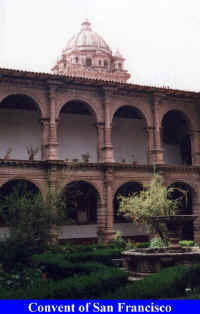 The first thing you realize when you arrive at Cusco is that you are now over 11,000 feet (3500m) above sea level. Altitude sickness is a serious concern! Do not immediately start sightseeing when you arrive. Our first afternoon consisted primarily of sitting in the hotel lobby drinking mate de coca to help us get acclimatized. We also met with a tour agent and were able to sign up for a half day bus tour of Cusco and the surrounding areas, a full day bus tour of the Sacred Valley, a full day tour to Machu Picchu, and jungle lodge accommodations and tours for our three day trip to Puerto Maldonado.
In addition, our agent provided our train tickets to Machu Picchu and booked our flights from Cusco to Puerto Maldonado and back to Lima. Pick up at our hotel before each tour was included in the package. All we had to do was make sure we were out of bed before the tours started. Although we did not take advantage the opportunity, you can book tours before you get to Cusco and even get picked up at the airport. If all else fails, there are plenty of tour agents greeting every plane that arrives in Cusco.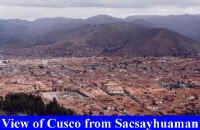 When we were not on a bus tour, we spent our time wandering around the streets of Cusco. There were numerous street vendors, bars, and restaurants to keep you occupied. The center of activity was the Plaza De Armas, which was in walking distance from our hotel. There are also several Churches and Museums in the vicinity of the Plaza.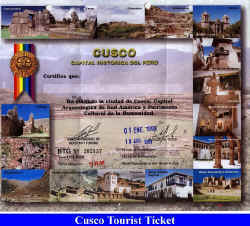 Unfortunately, we did not spend enough time in Cusco and missed visiting many of the sites that are not part of the standard bus tours.
If we were doing it all over again, we would make sure to:
1) Plan to spend far more time exploring Cusco. We only had one free afternoon to explore the area without having to meet the time requirements of a bus tour. At least two full days are needed to explore all Cusco offers outside the bus tours.
2) Immediately purchase the Cusco Tourist Ticket. Our tour agent had run out of tickets when we booked our tours and we ended up having to pay extra admission to some sites because the ticket is not sold at every site it is required for entry.
3) Leave extra space in your luggage for all the bargain items you purchase from the street vendors.