Helpful hints from Information Outpost staff members who have been there!
Travel Notes
Peru: Puerto Maldonado
When we arrived in Puerto Maldonado, we were immediately greeted by a guide from our lodge. We were then taken by car via mostly dirt roads to the port area for the Rio Tambopata. We were lucky to get a car since most of the transportation in Puerto Maldonado is by moped or three wheeled motorcycles. The port consisted of a dirt parking lot, a couple of food stands, and several long boats run aground on the bank of the river.
Our destination was the Bahuaja Lodge, about 65 km up river inside the Tambopata Reserve, about a four hour journey. We were fortunate again because our lodge had a boat with at standard outboard engine instead of an extremely loud makeshift engine that looked like a converted old lawnmower.
Once we arrived at the lodge, we realized that we were isolated from the rest of the world. We had no running water or electricity and were miles from the nearest neighboring lodge. After we got settled in, our guide took us for a quick hike through the jungle around the lodge. The paths near the lodge were in fairly good shape, although there were some areas where puddles had formed from the rain. We were able to see some great scenes on the first trip, including views of the river, but we did not get to see much in the way of animal life. When we got back, we were served dinner and then got ready to go cayman hunting.
After it was dark, we set out in the long boat with a search light. We drove along the edges of the river looking for the reflection of cayman's eyes in the light. Because it had rained so much the past couple of days, the level of the river had risen very high and was full of logs and debris that were washed from the river banks.
Attempting to navigate through the obstacles in the river at night proved too difficult, so we ended up abandoning our search before we found any cayman. We returned to the lodge and spent the rest of the evening reading, talking, and swatting bugs. Our sleeping quarters were open air rooms that had beds encased in mosquito netting. The tricky part was getting into bed without bringing any unwanted guests with you.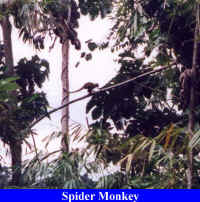 The next morning, we started out on a day trip to an inland lake. We borrowed some rubber boots from the lodge so we could make it through the various water hazards. The hike proved to be a long one, but we made it across all the obstacles without a problem except for getting a little wet. We ended up wading through water above our knees to cross a stream just before we made it to our destination. At the lake, we saw a group of spider monkeys climbing through the trees as they looked for food.
After they left the area, we had our lunch and then started fishing for piranha. Our guide caught the first one using a piece of meat on a hook, and then we chopped up the first piranha to use as bait. We ended up only catching one more, which we brought back to the lodge to have for dinner. The hike back was much more tiring since we all had wet feet. We spent much less time looking at the birds, bugs, plants, and butterflies that crossed our path on the way back.
After making it back to the lodge, we took a quick dip in the river to cool down. We then enjoyed some of our fresh piranha for dinner. We were not able to try cayman hunting that night because the river level had continued to rise and the river was choked with even more debris than the night before. We ended up sitting around the lodge talking about our day of hiking and fishing. The next morning we took the long boat ride back to town. We stayed one night in Puerto Maldonado and flew out the next morning. The town was very small, but there are some good restaurants and bars there. If we were going back to the jungle, there were a couple of things we could have done differently:
1) Bring food and beverages from Puerto Maldonado. Our lodge had some beer available, but it was expensive and there was not much in the way of snack food available.
2) Be prepared to camp out. Take sunscreen, toilet paper, bug repellent, a flashlight, and a good book to read.
3) Be ready to hike through some wet areas. Bring a plastic bag for your camera and wear socks that will not end up around your toes when they get wet.
4) Bring a big flashlight to search for cayman. You can only see the reflection from their eyes if you are holding the flashlight.
5) Get shots for malaria and yellow fever before you leave for Peru. We did not have to provide proof of vaccination, but it looked like the nurse showed up for work at the airport after we had picked up our luggage and departed.
After we flew out of Puerto Maldonado, we stopped in Lima for an evening and then departed for the United States that night. We hope you have enjoyed our experiences in Peru.
Return to Information Outpost home page